Directions to Global Game Jam 2018
Below is a Google map highlighting the Millennium Student Center Century Rooms (3rd Floor). Registration starts in the Century Rooms on the third floor at 4:30PM on Friday, January 26th, 2018. Directions:
Off of Grobman Drive turn onto Touhill Circle and take a left into the open parking lot
Park in any open spots. If they are all full, park in any of the nearby spots or in a nearby garage. UMSL will not be ticketing the weekend of the event.
Head into the Millennium Center and find the nearest stairs or elevator to get up to the third floor. Follow signs or follow your nearest Jammer to the Game Jam.
Parking can be found just north of the building off of Grobman Drive at Touhill Circle.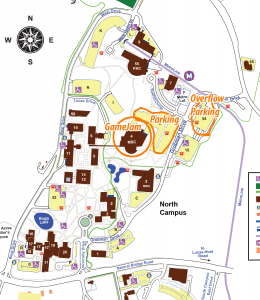 A PDF of the campus map with parking can be found here: http://www.umsl.edu/files/pdfs/north-campus-map.pdf
Don't worry about parking passes, campus security knows to be expecting a *lot* of guests for this weekend, so as long you park somewhere reasonable, you should be fine. If for some reason you do get a ticket from the campus cops, just pass it along to one of the jam organizers and we'll take care of it.
No comments to show