Directions to Global Game Jam 2017
Below is a Google map highlighting the Social Sciences & Business Building. Registration starts in Room 222 at 4:30PM on Friday, January 20th, 2017. Directions:
On West Drive, the parking structure just south of the SSB building is entitled, "West Drive Parking" (yeah, sneaky, we know)
Best is to park on Level 3, which is the plaza level entrance to the SSB building
Leave the parking structure, turn left (north), walk past the pyramid-looking thing (you'll know it when you see it), and the first building on the left is the SSB building, with a door on that end which leads to the 2nd floor of the building.  Go all the way down to the far end away from the parking structure, and that's room 222.
Parking can be found just south of the building off of West Drive.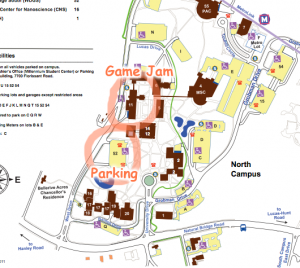 A PDF of the campus map with parking can be found here: http://www.umsl.edu/files/pdfs/north-campus-map.pdf
Don't worry about parking passes, campus security knows to be expecting a *lot* of guests for this weekend, so as long you park somewhere reasonable, you should be fine. If for some reason you do get a ticket from the campus cops, just pass it along to one of the jam organizers and we'll take care of it.
No comments to show