He Who Ages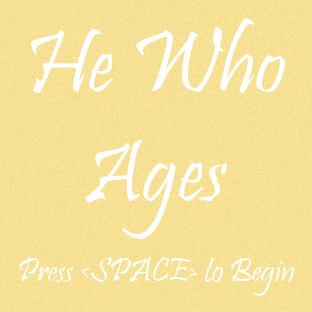 Short Introduction: 
 A child who lives in a timeless village stumbles upon the key to free his people, but at what cost?
Platform/System:   Windows
Brief Play Description: 
You start off in a village, you walk around and discover there is a dungeon, you need a sword to hack up the bush, then you find there's a sword in the maze.
You obtain a slingshot to solve some puzzle, then you enter the maze and immediately find the sword.
You then hack down the bush and enter the dungeon.
1st dungeon completed.
You exit on the other side and head down to find a tattered old map that says "dad was sad" on the back.
But you can only see a snake mapping out the location of the spring.
An old man will let you through onto the path to collect his old sword, laying in front of the statue of him, once you have given him some spring water.
When you exit he asks what you have there, oh a map, but why does it say "DAD WAS SAD… in the maze"
So you go back to the maze with the better sword and hack down a giant tree or duel someone and enter.
2nd dungeon completed.
You find a beast who constantly pushes you out of that panel.
You go to the library and a woman gives you a staff/cane because you're old.
And you read up on some strange magic that turns you invisible and cast energy bursts.
Then you go to the beast and walk past him while invisible.
You enter the final dungeon.
3rd dungeon completed.
You place the three amulets at the pillars after obtaining the ability to change age at will.
You enter the actual final dungeon, where you must face the sphoenix and complete the game.
Credits:
 Ultimate Creator: CJ Mertzlufft