Podcast and Shirt Announcement
Last week, St. Louis GameJam co-organizer Elonka was interviewed about the Global GameJam for the PodCacher: Geocaching podcast. Click the link to have a listen. Her section runs from 11:30-28:40, and again from 40:30-54:00, but the whole thing is interesting, so I'd recommend listening to all of it.
Another announcement I'd like to make is that we'll have shirts again this year! Site designer and six time St. Louis GameJam veteran Scott Petrovic came up with a super snazzy t-shirt design, and thanks to our generous sponsors at Asynchrony the first 100 people who have pre-registered will get this snazzy puppy when they show up to the GameJam: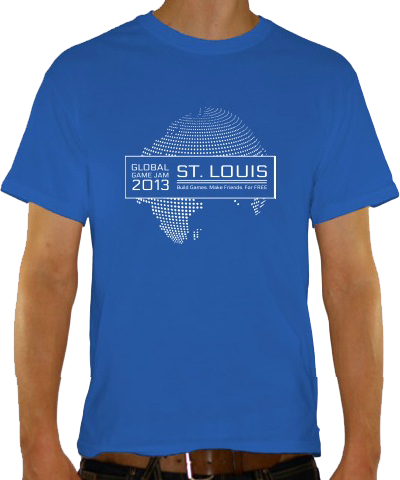 Remember though, sizes are limited and this shirt is only for people who pre-register, so please visit our globalgamejam.org signup page today and let us know you're coming.
Finally, if you're like I am and you're going to wait until the last minute to even think about checking where the Jam is taking place, just remember to come back to this site. Scott added them to the top of the index page of this site earlier today. Come back here if you get lost! See you at the Jam!
No comments to show